We have all come home tired after a hectic day and experience headaches, body aches, and sometimes even lower back pain.
Everyone has at least once wanted a massage chair or a hand massager to treat a stubborn body ache after sitting on an office chair for long 8-9 hours or doing any other task at work. Furthermore, it is more confusing to conclude whether you really need to splurge on a massage chair.
I hope that reading this article will clear your doubts and share light on the benefits, latest technology features, types, and pricing of massage chairs.
What is a massage chair?
It is a sophisticated chair ergonomically designed to mimic the hand motions of a therapist or a chiropractor. They could be traditional or robotic chairs. Nobuo Fujimoto first designed it in 1954. Massage chairs provide relaxation by kneading, flapping, and other techniques.
There are different types of massage chairs:
1. Full body massage chairs
2. Ottoman massage chairs
3. Heated massage chairs
4. Air massage chairs
5. Zero gravity massage chairs
You must have wondered if vibrating chairs are good for you? Vibrating chairs use vibrating therapy, which is of two types: localized and full body vibration therapy. It is helpful for the elderly age group as they are at a loss of regular exercise.
Are massage chairs worth it?
Altogether, there are two answers to this question depending on a few aspects:
YES, they are worth the money if you have enough space and can afford it.
NO, because they occupy a lot of space, are difficult to move around, and are high maintenance. You don't want such technology just for a back rub or hand massage.
If you agree with the NO but still want to avail of its benefits, pay a visit to your local salon whenever you want for a relaxing massage or invest in a handheld massager. Now, isn't that economical.
However, with the above two answers in mind, you are free to ponder this as per your choice.
Treating Health Issues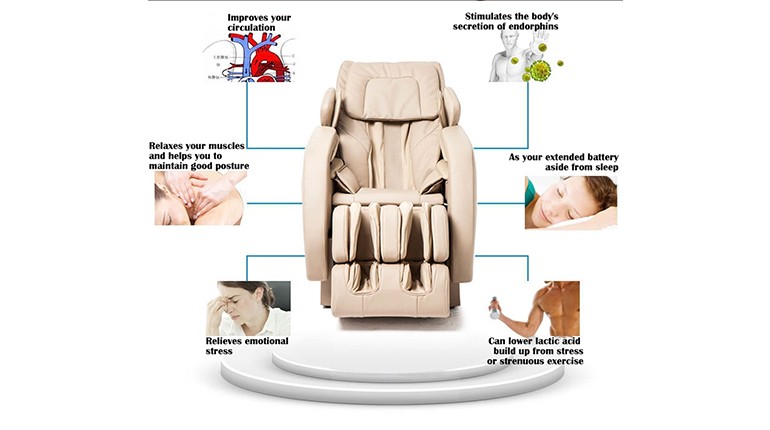 Tired of the nagging dinosaur neck pain? Massage chairs can treat and improve various health issues such as back pain, neck pain, shoulder pain, chronic pain, and muscle tension. Before using a massage chair, consult a doctor if you have medical conditions.
Joint and muscle benefits:
Post-workout sore muscle recovery
Reduces muscle stress
Sleep inducing
Relief from lower back pain and sciatica
Reduces stiff neck issues
Better blood circulation
Are massage chairs good after a workout? Yes. Massage chairs aid in reducing muscle soreness, inflammation and help recovery so that you are ready to hit another workout the next day. If you are one of those people who think that massages aid in weight loss.
Let me honestly tell you, the answer is NO because massaging does not help in losing weight. However, it does aid in reducing and removing the stored fat called cellulite. Massages are a temporary solution to reducing cellulite and not a permanent fix.
1.

Back pain
It is widespread and arises due to overworked muscle spasms or tight muscles, which can also strain the skeletal bones. A massage chair helps to relax these muscles by stimulating blood flow in your back. Not only does it help in circulation, but it also aids in removing tension from your back also relaxes the shoulders, neck, and legs. Back pain can also arise due to a bad posture.
2.

Neck pain
In reality, 20% to 70% of adults experience neck pain which interferes with their daily lifestyle.
Research by BMJ 2020 shows neck pain stats at the global, regional and national levels:
| | |
| --- | --- |
| Global | The number of cases due to neck pain was 288.7 million in 2017. |
| Regional | The highest annual incidences of neck pain were in East Asia, North Africa, and the Middle East. Lowest for Andean Latin America, Caribbean, and Australasia. |
| National | Countries with the highest estimates were Norway, Finland, and Denmark. Lowest in Djibouti, South Sudan, and Burundi. |
3.

Shoulder pain
A shoulder massage escalates sore muscles' temperature and helps relieve tightness, tension, and stress that cause discomfort. One of the most common reasons for shoulder pain is slouching.
A massage chair gently applies pressure to the shoulder, operating in a circular motion up to the neck muscles.
4.

Muscle tension
Massage chairs knead the affected regions where your muscles are knotted from being too tight. The circular motion from the roller blades helps in relaxing the skeletal structure and aligning the spinal cord.
Psychological Health Benefits
Massage has two major effects: Increase circulation in blood and lymph and relaxing and normalizing the soft tissue muscle.
1.

Relieve Stress
Massage therapy can help in reducing stress by calming the mind and nervous system. It allows the flow of positive hormones, which act as stress busters.
2.

Reduce Anxiety
Struggling with bouts of never-ending worry can be exhausting. Here, massage chairs are an effective way to reduce stress and anxiety.
3.

Better Sleep
Massage chairs and hand massages share a common secondary result, i.e., they easily put you to sleep. Hence, massage chairs are very effective in inducing sleep. Therefore, it aids in alleviating insomnia and sleep disorders.
4. Promote Mental Clarity
Did you know that massage chairs stimulate brain activity?
Chair massages can be a great way to refine physical health and mental health for those who want to de-stress and aids in think efficiently.
Other Health Benefits
Improve Circulation
A good massage helps in smooth blood circulation as it stimulates the muscles. Cold feet, numbness, cramps in calf muscles are signs of poor blood circulation. Varicose veins are a symptom of bad circulation, and gentle action of vibration triggering of skin tissues and the reclining feature can provide extra relief.
Cost
You get what you pay for. Before investing in a massage chair, we need to research the product. I have created a list of things to look out for when purchasing a massage chair:
Customizable features and design.
Durability
Ease of repair
Location
Budget
Warranty
Customer care
Massage features
Massage chair upholstery
Power setting
Reclining function
Overheating warning
Convenience
Cost
Weight carrying capacity
Installation
Accordingly, the cost of massage chairs is as follows:
Under $ 200: Firstly, massage chairs below $200 are cheap as they are made from faux upholstery. In other words, it could have heating issues. Secondly, they have very few massage modes; after all, it does cost $200. On the positive side, they do have a built-in cup holder and storage pockets.
$200 -$500: this price will fetch you a decent massage chair with full body massage modes and built-in heaters. In addition, these massage chairs have a deep tissue massage cushion feature.
$1000 -$4000: furthermore, for this price, you can get a pretty decent massage chair with features such as full-body scanning, Bluetooth speakers, touch screen panels, an S track system, and much more. For example, zero gravity chair.
Expensive massage chairs fall in the price range of $6,000 – $10,000 and are embedded with the latest designs and technologies.
Advanced Massage Chair Features
Roller technology
Does the massage feel the same as a hand massage? NO. This is because massage chairs are mechanical and lack a human touch.
For example, Inada DreamWave massage chair.
Roller technology rollers come in 3 dimension movements- 2D, 3D, and 4D.
Manual adjustments
3D body scanning feature
L and S massage track
Reclining function
USB port
Airbag system for massaging the areas (calves, thighs, arms) where the rollers cannot reach.
Zero Gravity
In other words, it is programmed with a zero-gravity feature and makes you feel weightless, as well as allows you to firmly press your weight against the chair back for a deep tissue massage.
Zero gravity massage chairs provide the following functions:
Reclining function
Music
Remote control
Inbuilt massage rollers
Airbag Massage
The chairs focus mainly on the arms and legs. Mini air compressors control how much air is driven into the airbags. More air in the airbag is equal to a tighter grip on sore muscles.
It works the same way as a massage therapist would, by using the grip and squeeze method.
On the contrary, doesn't it sound more like a horror movie where the device turns into a death machine?
Just kidding.
Heat Therapy
Chair massages offer a smart feature called heat therapy with heating functions near the foot and calf ports. In other words, heat therapy is also known as thermotherapy or warmth therapy. Heat therapy is of two types: Dry heat therapy (conducted heat therapy) and moist heat therapy (convection heat therapy).
For instance, sauna, steamed towel, hot bath, hot tub, and hot shower are examples of moist heat therapy.
Similarly, hot packs, hot wraps, heating pads, infrared sauna, and massage chairs are examples of dry heat therapy.
Chromotherapy
It is also called color therapy—for instance, 20% of massage chairs available in the market offer this feature. In fact, therapists assert that exposure to particular light hues can make you feel better, both physically and in a state of mind. However, this case is not research-backed.
Features of a chromotherapy massage chair are:
LED lights mounted in chairs
Music
Convenient + Time saving
You can use the massage chair for 15-50 minutes a day. Granted, that chair massages are convenient, but they are also streamlined. No more waiting at the salon for long boring minutes of awkwardly waiting for the masseuse to return with the therapy oil.
Durability
Are massage chairs durable? Yes. Moreover, they are produced to withstand years and years of wear and tear.
Isn't it frustrating sitting down on the massage chair after a long tiring day only to find out that it is not working? It is. Oh, the headache!.
To combat this suffering, make sure to ask the seller or the manufacturer the chair MTF (Mean Time Failure Rate) rating for the product you are purchasing.
Massage Chair vs Hand Massage
To point out, both have their plus points.
Since the introduction, massage chairs have come a long way with added features and designs providing a wide range of functions and technology. They are also FDA-approved. Another difference is that massage chairs lack human touch in contrast to a hand massage. A massage chair provides ultimate privacy that a hand massage doesn't.
A hand massage from massage therapists might cause some discomfort during treatments like glutes massage for sciatica or a chest massage; a chair massage comforts you without the need for a human touch. There is consistency in the pressure and speed in a massage chair that wavers in a hand massage.
Are massage chairs good for you? Or does it cause any Side effects?
Of course, with proper knowledge and prescribed guidance of a massage chair, you can reap amazing health benefits. As a matter of fact, we all know that anything in excess is harmful or dangerous.
Similarly, excessive use of a massage chair can cause muscle damage, inflammation, and tissue bruising. Not only that, but it can also damage the chair's internal motor.
SIDE EFFECTS-
As has been noted, if not well maintained, the massage chairs can lead to infectious skin diseases.
Rashes from prolonged use and overheating.
Sooner or later, it can form blood clots
Circulatory ailments
Inflammation
Tissue damage
Bruises
The Final Answer- Are massage chairs worth their price?
Like I said earlier, in conclusion, you have to choose between whether you can afford a massage chair or if there is a need for one. Consider investing in a massage chair only if you handle its care and maintenance as well as use it frequently.
Always check the reviews, cost, features, and benefits of the massage chair you wish to buy. To sum it up, in general, yes, they are worth their investment.
I trust that this article has answered all your doubts and has provided you with an answer to the question, "Are massage chairs worth it?".