Outdoor furniture is called garden furniture, and similarly, outdoor chairs are also called patio chairs. Not only do they allow us to laze and procrastinate, but they also are hard working. I say hardworking because different types of outdoor chairs are built to endure the use and abuse of daily life and the ever-changing seasons.
On a funny note, if you wanted something more durable than patio furniture, just built an outdoor chair made from bricks and cement.
A good outdoor chair combines its strength and weatherproofing and simultaneously provides comfort and versatility.
So let's dive in to pick our favorite types of outdoor chairs.
Types of outdoor chairs
We have segmented the outdoor chairs into different categories of chairs that you will find interesting to read. So, let's get started!
Open weave chair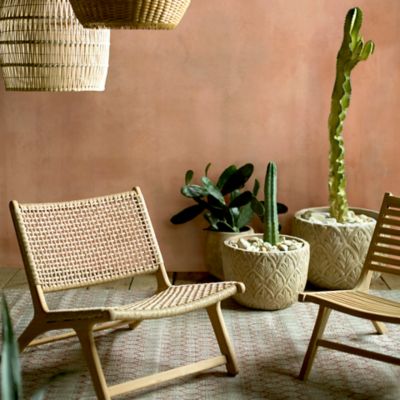 This chair is perfect for small-spaced homes. The back of the open weave chair has handwoven plastic piping similar to the rattan chair. This type of chair is exceptionally versatile and striking.
Additionally, the chair seat is made from recyclable resin and is UV resistant. It is available in many colors, and these chairs are weaved with threads, wicker straps, or jute to give it an aesthetic appeal.
Wooden outdoor chairs
Wooden types of outdoor chairs are further available in four types: folding, director, minimalist, and lawn chairs. Let's get to know more about these four types:
Folding wooden chair
Wooden folding chairs that inspire Adirondacks style are iconic pieces that won't go out of style. Not only is this chair classically designed, but it is also durable.
Moreover, Adirondack chairs are perfect for smaller patios and outdoor spaces. In addition to that, it can also be folded up in contrast to the clunky chairs.
Director outdoor chair
The director's chair is a classic style decor. Wherein the chair seat is made of soft fabric.
Not to forget, a director's chair is another type of folding chair and can be easily tucked away. Therefore, this chair style is ideal for a multi-functional outdoor seating area.
Minimalist Outdoor Wooden Chair
If you want to keep your outdoor furniture classy and elegant, go for the minimalist outdoor chair.
It is constructed using grade AB teak wood material. Therefore, this minimalist designed chair elicits essence. In addition, its stainless steel railings throw in additional elegance factors.
Lawn chairs
The Classic lawn outdoor chair evokes summertime nostalgia. However, this type of chair upgrades the similar style of chairs you have seen at baseball games and freshly mowed lawns. The chair seat is made by interweaving strips of strapped bands across it.
Tip: Most outdoor wooden chairs can be sealed, oiled, and painted for long-term use.
IKEA PS VÅGÖ plastic chair
If you are looking to buy an outdoor lawn chair that is wallet-friendly, look no further. The IKEA PS VÅGÖ chair is just the right one for you.
These chairs have a molded plastic frame. Not only are they available at an affordable price tag, but they also require zero assemblies.
Moreover, they can be easily stacked after using them. Lastly, this type of chair is made of UV-resistant plastic. Therefore, it will not fade with time.
Rocking outdoor chairs
Rocking chairs are a sign of material and economic stability. They are also a sign of personal happiness. This type of outdoor chair is available in many types, among which Lozano mission rocking chairs and outdoor metal rocking chairs are the ideal ones.
Lozano mission rocking chair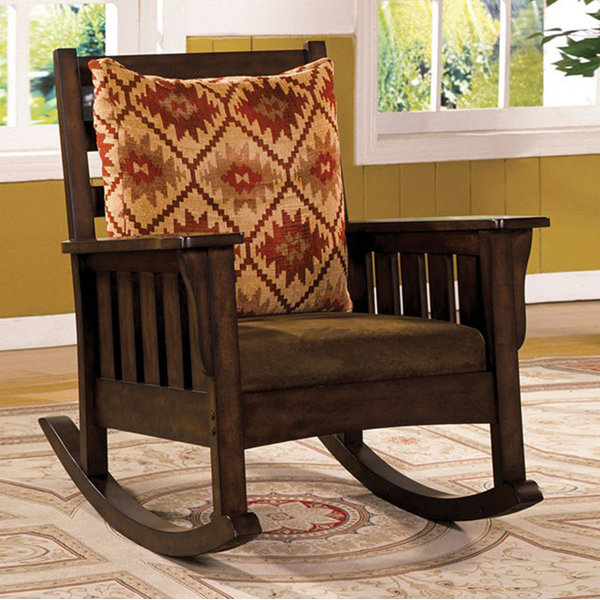 This rocking chair is the least expensive. However, it is a far more traditional style of a seating chair.
Therefore, it has a charming cape cod look. In addition to that, it is UV resistant as well as water-resistant. Thereby making it ideal for inclement weather conditions.
Outdoor metal rocking chair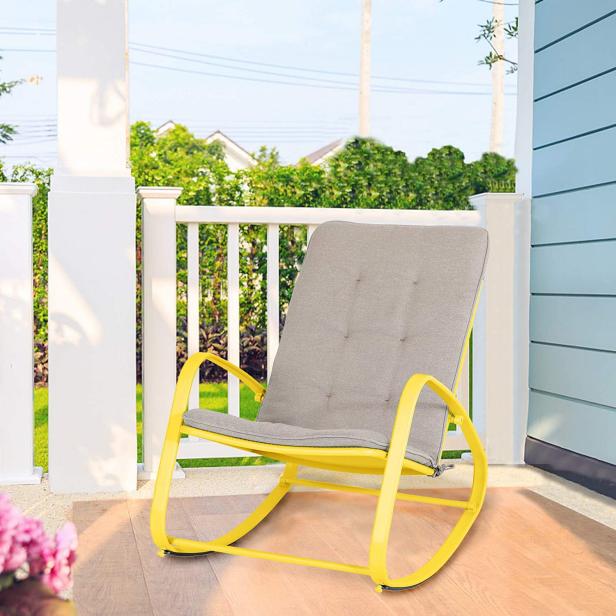 Finding perfect, simple, outdoor rocking chairs is like finding a needle in a haystack. Therefore, thanks to the outdoor metal rocking chair, it is now easy to get your hands on outdoor rocking chairs.
These types of metal chairs have a country charm due to their powder-coated steel frame. In fact, this chair slightly leans towards geometric angles. However, it is in many bright colors. Thus, it touches on a more outdoor living modern space.
Wicker chairs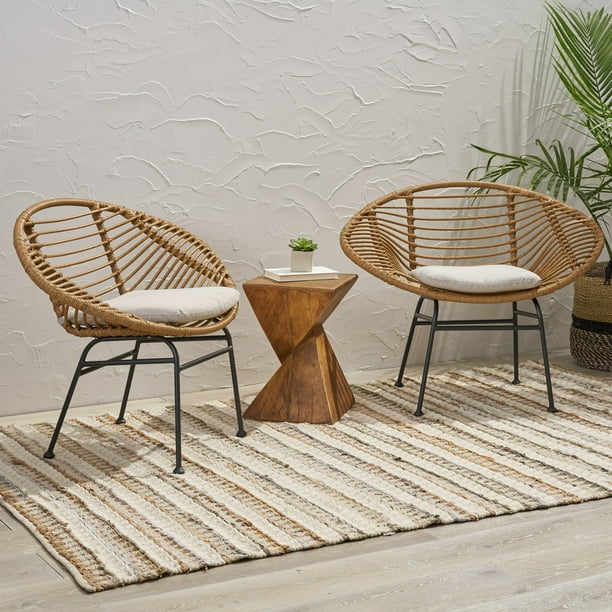 The wicker chair style is made of water-resistant resin. Moreover, this type of chair looks kind of similar to the mid-century modern style chair. For example, the Acapulco chair, a rust-resistant chair, will make an appearance end of the list.
Not only is this chair lightweight, but it is also impactful. In other words, it has a compact frame. In addition, you can stack them for convenient storage.
Modern Luxury Outdoor Wicker Chair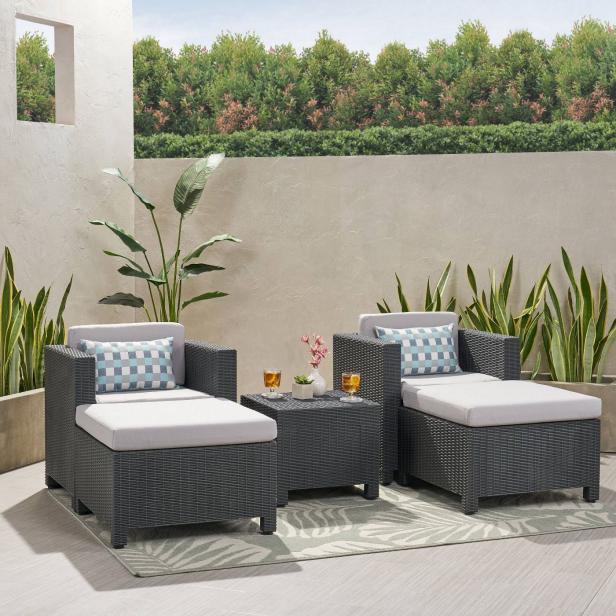 This Modern luxury style outdoor chair has a graceful barrel with a long-lined chair. Not to mention, this type of chair is made of aluminum and natural sea-grass wicker.
You can also get different patterned cushion upholstery to match the frame of this chair.
Swing chair
The gentle rocking of the swing chair is very relaxing and easily helps the user fall asleep by stimulating deep sleep. there are three versions of the swing chair:
Patio swing chair without stand
These types of outdoor chairs are perfect for uses, such as a nap or late-night bonfire sessions. Thus, this chair style, with every swing, gives the user a sense of freedom and comfort. In addition, the seat of the chair dangles from a steel chain.
As this swing chair doesn't have a stand, it is a floating outdoor chair. In addition, this outdoor chair is made from synthetic rattan and a more polyester cushion. A few types of this swing chair are the ball-shaped swing chair, knotted hanging chair, and Garden swing chair with a stand.
Ball-Shaped Swing Chair
It is observed that circular shapes are always the center of your eye's attention. In short, when you stroll in a garden, the first thing that catches your attention is either a round dome-shaped flowering pot or a circular structure of lawn and the aesthetics.
Same way, this hanging swing chair is sure to be the center of attention of a room. This is due to its round/ball shape.
Knotted Hanging Chair
In contrast, to the above two types, the knotted hanging chair uses macrame polyester yarn.
Therefore, the swing chair is supported with a knotted macrame and is very appealing to the eye. Not to mention it also looks delicate and cute.
Decor tip: You can hang this swing chair on the front or back patio for a tranquil spot to watch the cats skip around.
Bistro chair
There are two types of bistro chairs, namely:
Folding bistro chair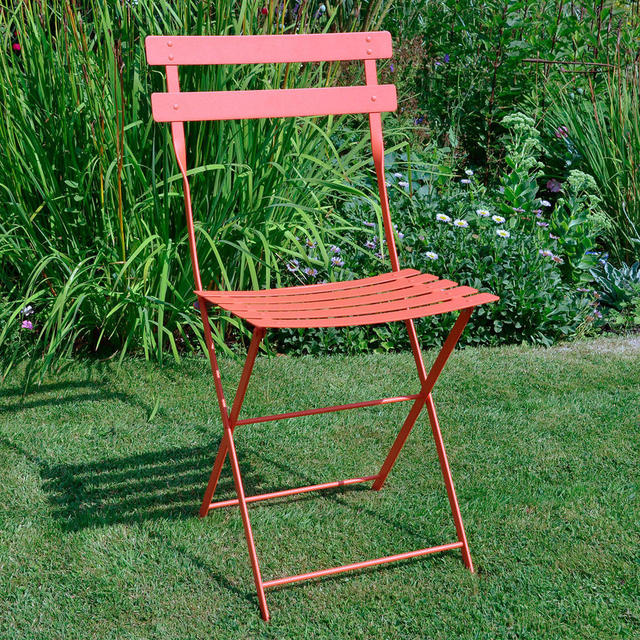 As the name suggests, the folding Bistro chair can be used as a dining chair. However, it is most ideal as an outdoor chair. In addition to that, it is light in weight and has a sturdy wooden frame.
Moreover, the chair seat can be decorated by using a breathable fabric cushion or padding. Thus, this folding chair is sure to hit all the checklist marks.
X back chair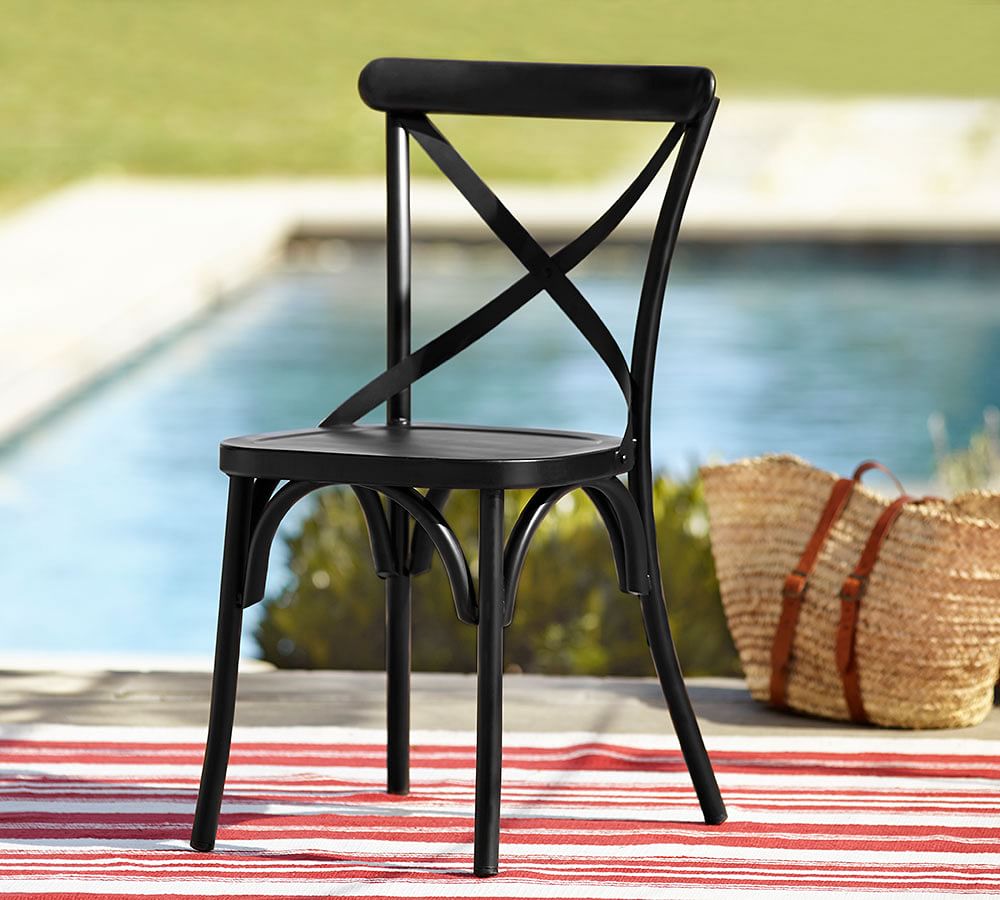 The X back chair is another type of Bistro-style chair. However, this chair is not foldable. It has a flat chair seat. As a result, it is a staple style used at weddings and patio dining tables.
Just grab a book, a glass of wine and head outside on a serene day to experience the French farmhouse vibe.
Rope chair
This type of chair style adds a delicate visual interest without overpowering the room space or the outdoor area.
The rope chair is made from Acacia wood and is moisture resistant. Therefore, you can play with the textures and color pops each season due to their neutral color.
Accent chair
Such types of chairs are water-resistant and are made of Acacia wood as well. Not to mention, an accent chair is woven with wicker straps, giving them a geometric appeal.
Hence, they have a mid-century vibe. Lastly, the chair is strong and sturdy. So make sure you don't hit your head with it.
Acapulco chair
You can use the Acapulco chair to design a Mayan type of setting for your outdoor area.
On a more positive note, the chair is powder coated with iron. Hence, you don't need to worry about rusting.
Decor tip: design a small rock garden with a small water fountain and set these chairs surrounding the rock garden.
Acapulco Outdoor Rocker Chair
Sitting outdoors just got better with this rocking Acapulco chair. These turquoise-colored rocking chairs share the benefits of their forerunners. However, they have a little sway to their seats.
These types of plastic chairs are conveniently easy to accommodate in small spaces.
Driftwood chair
Driftwood chairs come in two models: Capri, Keter, and Sissi style. Let's dive in to know more about these wonderful outdoor furniture pieces.
Capri driftwood chair
This driftwood chair is a very dainty piece of furniture. Not only is it dainty, but it is also petite, almost similar to a club-style chair. This type of chair is perfect for outdoor dining tables or lounging.
Also, this type of chair makes for a cozy landing spot. It is made by using synthetic rattan and is water-resistant. On the other hand, the chair seat comes without a cushion that is sold separately.
Keter chair
Doesn't this look chubby? The outdoor Keter chair is a type of armchair. Also, this type of chair offers durability and is cost-effective. In addition, this chair seat and frame are made from all-weather-resistant resin material.
Besides, the cushion padding is washable. Lastly, it is available in various colors, such as black and brown.
Sissi chair
The traditional Viennese chair inspires the Sissi chair. In fact, this chair style is perfect for gracing your outdoor patios and gardens. Besides, it is constructed with plastic and fiberglass.
Likewise, its interconnecting looks provide a fashionable alternative and give more standard seating options.
Mid-century outdoor chair
This mid-century outdoor chair is a fold-able lounge chair. Thus, it is most ideal for bonfire seating. Moreover, they are American-made chairs. In addition, the chair seat and frame are made from yellow Pinewood.
This type of chair can be easily be folded up and back down again.
Cleaning tip: Use a teak oil finish to protect the chair from humidity.
Sculptural chair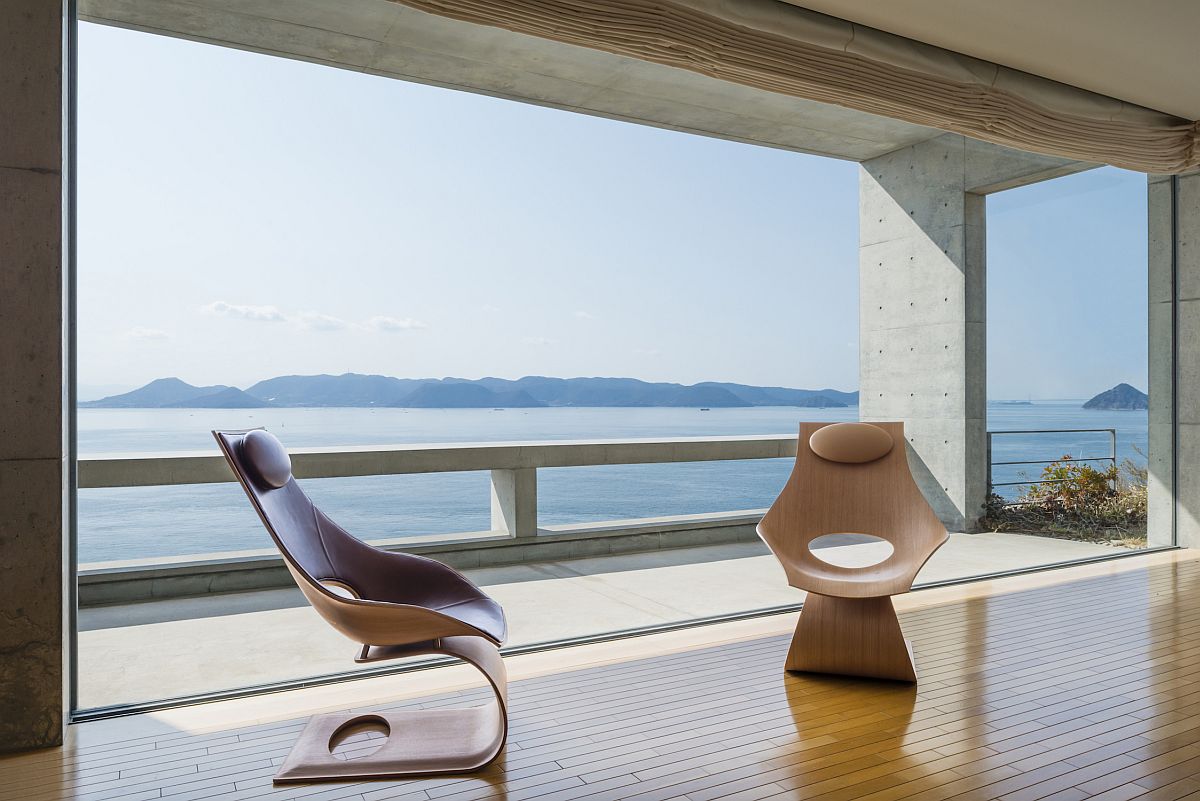 The sculptural outdoor chair combines the classic wicker chair and the modern iron mesh outdoor chair. The chair is made in the US.
Moreover, the chair seats are rust-resistant. However, this type of chair style was added to Cooper Hewitt's permanent design collection in 1994. Lastly, these chairs look appealing in a pebbled outdoor area.
Slingback chair
This sling chair style has a detailed fringe and a lightly pale stripe pattern. Therefore, this chair style is sure to give you beach vibes as well as a poolside feeling.
In addition, you can adjust the back frame at different types of reclining adjustments and levels. This type of chair is easy to fold up and is easy to store. Lastly, the chair is made of teak wood.
Outdoor lounge chair
Well, these types of outdoor chairs are meant especially for relaxing. There are varieties of lounge chairs; however, we have categorized 3 types of outdoor longer chairs below.
Farmhouse Wire Lounge Chair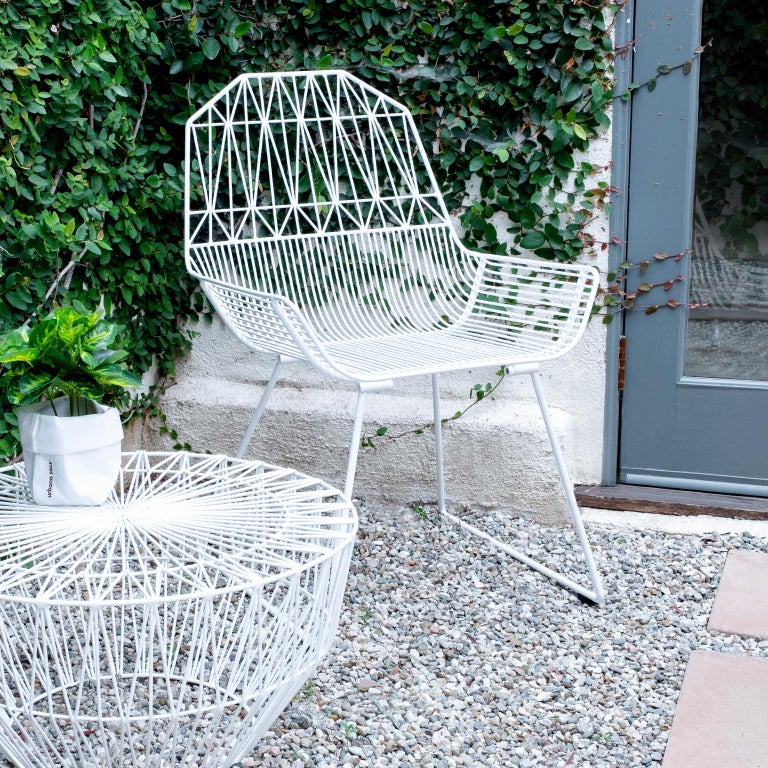 This mesh chair was inspired by the Amish barns and designed by Gaurav Nanda. He spot-welds these iron chairs to give them a curvy appearance. It is available in 6 colors, mainly three colors for the chair's base and three for the cushions.
Mesh Lounge Chair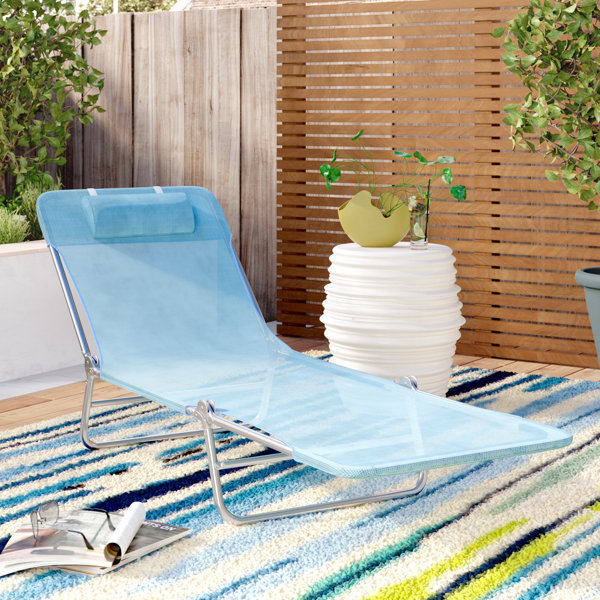 Sometimes, we want to sit outside to enjoy the sound of the birds or enjoy a hot cuppa outdoors. Therefore, the purpose of this mesh lounge chair is to provide comfort and a place to lounge lazily.
It has a punched pattern and powder-coated steel covering, which protects the chair's wooden frame.
Sun Lounger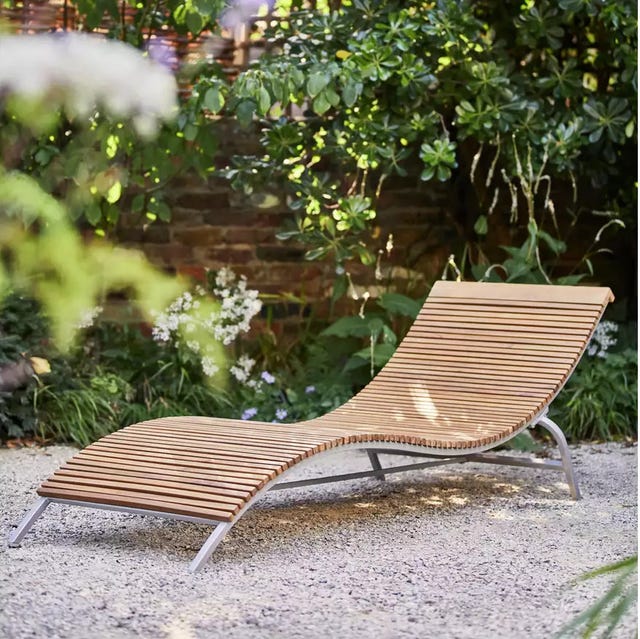 Planing to sit under the sun for an amazing tan or to breathe some fresh air? The sun lounger is the right option for you. Also, these chair designs are stretched due to the 88 pieces of teak wood.
In short, this chair is made from teak wood and is similar to the lounge chair style.
Chaise outdoor chairs
Chaise chairs are not only available as antiques and beach lounge styles; they can also be used as outdoor chairs for relaxing and enjoying the gift of nature.
However, it is no longer a typical furniture necessity but rather a luxury piece of furniture in a modern home. It offers a long reclining seat for extra comfort and adaptability.
Brommo chaise chair
The Brommö chaise chair has a strong and sturdy wooden frame. It is suitable for outdoor decks and lawns. Moreover, this type of chair is made of Acacia wood. And, the chase seat is made by using ropes.
In addition to that, it is a perfect addition to an outdoor space and is considered the best patio or deck furniture.
Conclusion
I hope you have found your ideal types of outdoor chairs while scrolling through this list. In addition, we should always take care of our outdoor furniture even though they are heat and water-resistant.
However, make sure you deep clean your outdoor furniture every three months and wipe them lightly to remove any dust and mud a minimum of twice a week. So far, my favorite outdoor chair from the list has been the rocking chair. I would love to know which outdoor chair piqued your interest.