A wingback chair is quite a dramatic piece of furniture. This design has a rich history and purpose. The Hallmark of wingback chairs is the wings. The purpose of winged arms is to protect the upper body against intense heat and trap the heat emanating from the fireplace.
This type of wing chair can be placed in the drawing-room and private studies, ideally where one sits to read, socialize, and perhaps grab a siesta.
Therefore, I have compiled a list of different types of wingback chairs, showcasing each style's fantastic and versatile features along with development over the years.
Types of wingback chairs
Let's take a look at various styled and designed wingback chairs you can use to revamp your living room space. Well, select a chair and add it to your checklist that meets your demand. I am sure the list will be more number of chairs that you have thought of. So let's get started.
Grand Repos Wingback Chair
This wing chair was designed in 2011 by Antonio Citterio. The Grand Repos Lounge Chair has a curvy-shaped form giving the user an embrace and a feeling of refuge. This work of art chair is available in various models such as swivel and recline. Thereby contributing comfort and relaxation.
Also, these wing chairs are available in black and silver base finishes in addition to a range of upholstery fabric of naturals, neutrals, and striking firetruck red getup.
Papilio Wingback Chair
It is named after the Latin word for butterfly, which means "Papilio." Therefore, it is the perfect embodiment of grace and elegance. Naoto Fukasawa, a Japanese designer, designed the wing design to reflect a protective nature, a powerful aid to relaxation.
Moreover, this swivel wing chair is just as reasonable as it is comfortable. Not to mention, it has a back zipper enabling easy upkeep of the wingback chair slipcover.
Wegner Style Wing Chair
It is based on Hans J. Wegner's CH445 Wing Chair. Hence, this versatile design flawlessly grasps the heart of mid-century in modern flair. Every angle is exceedingly modified to match the original chair from the big seat to the high back. It is also called a grandfather chair or an easy chair.
An Idea: If you are working from home, prolonged sitting can cause lower back problems. Therefore, investing in a wingback chair would be a wise decision.
Egg Chair
It gains its inspiration from Arne Jacobsen's iconic 1958 design. Therefore, this piece mimics the hallmark angle and glove-like flare of the original chair.
Hence, making the Egg Chair such an important part of the modern structure lexicon. In addition, this wingback chair is available in a swivel base, making it considerable for a reading nook in the bedroom or living room area.
Tom Dixon Wingback Chair
The Tom Dixon chair lends a dramatic statement to any living space thanks to its contemporary take on a timeless style.
However, this beautiful Wingback Chair outlines luxurious wings for an eye-catching aesthetic charm and assists in deep relaxation and unexpected snoozes.
The modern original chair can be easily recognized due to the brass logo on the chair's back. 
Modern Metal Wingback Chair
Michele Menescardi, a Milan-based designer, made an immensely charismatic statement piece of furniture with this casual wing chair. Likewise, these winged lounge chair spotlights are a standard shell shape positioned atop a perfectly modern weightless metal base.
In addition, it features a removable lumbar support cushion that delivers additional relief right where you need it.
Reader Wingback Chair
Tor Hadsund, a Danish designer, designed this wingback chair. Likewise, it encompasses the radiant and spirited look of modern contemporary Danish designs.
Moreover, it has a small build and incorporates wing back elements like subtle wings and a curvaceous seat. Therefore, due to its supportive, comforting structure, it is certain to become a favorite among your guests. 
Bent wooden Wingback Chair
Suppose you are looking to enhance your favorite living room or bedroom space with something unique. Try going for a splash of distinctive patterns and styles. 
This piece of furniture is molded from a plywood body for a retro look and has durable seat upholstery. Not to mention, the upholstery fabric is made from Sunbrella.
Furthermore, this wingback chair furniture is also available in subdued charcoal black color.
Wingback Chair With Steel Legs
Are you looking for a colorful, vivid style chair that is sure to capture attention? Then, this wingback chair is certainly according to your checklist. 
It features striking upholstery, durable yet soft to the touch, situated atop vintage-inspired metal hairpin legs.
Thanks to the chair size, this high wingback chair is slightly easier on the knees than most low-profile lounge-style options.
Tufted Wingback Chair
The tufted wingback chair is a combination of traditional design and contemporary styled upholstery. Thus, conveying a transcending era look.
In addition, the features of this chair are a plush seat and back, just beckoning for enjoyment. Therefore, it is suitable for social spaces as well as cozy relaxation areas.
Papa Bear Style Wing Chair
The papa bear style was inspired by Hans J. Wegner's original wing-back chair. Therefore, the Papa Bear chair is recreated from a strong walnut wooden frame and top-notch quality Italian upholstery.
However, though not shown in the image, this piece of furniture comes with a matching ottoman to complete the set and can be placed in the living room for more emphasis.
Mid Century Modern Wingback Chair
This chair radiates countryside charm from its chic and welcoming wingback appeal. This piece of living room furniture is a combination of current trends and classic materials.
Hence, its curvaceous body is upholstered in smooth fabric and rustic burlap lining all over the exterior of the chair.
Contemporary Wingback Chair
The contemporary wingback chair has graceful swooping lines and plush all-over padded cushions. Hence, this wingback chair is equally comfortable as it looks.
Also, it has a lovely neutral hue theme and can, therefore, accommodate any range of accent colors. In short, it is great for those who like to play around with different seasonal collections.
Floral Wingback Chair
With this floral modern style chair, you can enjoy a blast from the past. It has vintage-inspired floral print upholstery and vivid retro looks.
Moreover, it has a dainty, elegant appeal and is certain to get compliments from visitors.
Decor Tip: You can accentuate this chair by mixing contemporary and antique-themed decor such as pastel curtains and dry flower arrangements.
Plaid Wingback Chair
Plaid fabric and upholstery are ideal for casual wingback chairs. This is because plaid patterns give a cozy nautical, cottage style, and rustic look to your home decor.
Similarly, the plaid wingback chair looks incredible without mixing and matching and can also be paired with a rosy striking accent tapestry for aesthetic.
Wing back Dining Chairs
You can now offer your guests an elegant spot at the dining table with these wingback dining chairs. Likewise, the elements of this furniture are tufted backs and plush high-end seating.
It also features supportive backrests thereby, ensuring comfort for everyday use. Lastly, these chairs are available in a set of two.
Antique Wingback Chair
Antique wing chairs are a timeless, versatile piece of furniture. You can bound never go wrong with this type of wingback chair. However, the only downside is its price tag and upkeep.
In addition, the wings of these antique chairs are lined with bonded leather and dark-finish perfectly coordinated legs.
Queen Anne Style Wingback Chair
The Queen Anne-style wingback chair is a vintage chair that dates back to the early 18th century with an ornamental twist.
This piece of furniture is covered in linen cotton, upholstery print, rolled arms and has elegant French scripts, which are very attractive. Therefore, travelers calligraphy enthusiasts are sure to admire this unique design.
French Wingback Chair
These wing chairs have a gentle, distressed Mindi wooden finish. Thus, giving this chair style a classic vintage look. Moreover, it has a sturdy modern construction. This chair has an upholstered linen body and soft padding, which has a smooth touch and highly versatile allure.
Decor Tip: These chairs can be placed as a single unit at the end of a sofa set or under a foyer staircase for a warm corner
Leather Wingback Chair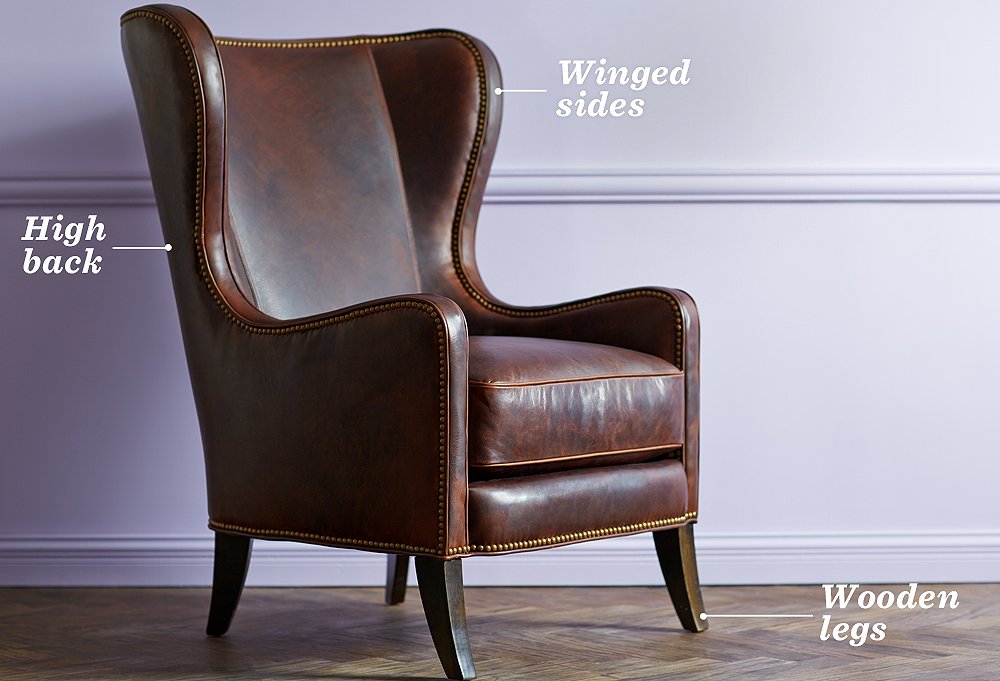 This wingback chair is made from genuine leather. Therefore, it is sure to make an impressively huge difference wherever you place it.
The chair is tufting along the sides of the wings to provide warmth, comfort, and a beautiful seating experience. In addition, it also has small front casters meant for easy relocation.
This style chair is decked with glimmering bonded leather upholstery and silver nailhead trim. If you want a regular casual chair with a beautiful teal color, this chair is perfect for you.
Wingback Chair With Ottoman
It can't get any better than resting your feet on an ottoman. Yes, this wing chair is paired with an ottoman for additional comfort and relaxation. Though classical in appearance, with elegant cabriole legs which pair well with modern home decor.
Therefore, it is a fantastic option for reading rooms, living rooms, and bedrooms.
Swivel Wingback Chair
This chair is an example of a classic chair style that meets contemporary style. It is comfortable and has a tufted overall getup. Moreover, it is made from faux leather upholstery, which gives a ragged view for this heirloom charm.
TIP: If you're considering placing your chair at the table, see to it that you clear the armchair is away from the table, or while getting up and sitting, you might end up ruining both the table and chair.
Wingback Office Chair
It is a great furniture piece if you are looking to upgrade your workstation or study room. It has tufted upholstery atop thick cushioning which provides constant support and comfort, helping you focus more and relax.
In addition, it also has sturdy caster wheels for mobility purposes.
Wing back Recliner Chair
You don't need to sacrifice your taste for modern furniture in preference to traditional furniture. Therefore, this recliner chair not only has a conservative footprint but is also perfect for smaller spaces.
Decor Tip: Place Areca palms or baby fiddle plants on either side for a tropical look.
Rocking Wingback Chair
Doesn't it look charming? I think it does.
This wingback-style chair brings about a nostalgic notion at first glance. Moreover, it has a dainty pastel upholstery and bold tuft covering. The rocking base is ideal for peaceful reading hours.
An Idea: It is a convenient way of getting an infant to snooze instead of rocking around with the child in arms.
Conclusion
In short, you now know about the different types of wingback chairs, from living room chairs to relaxing rocking chairs. I hope you have found your ideal chair from this lot of amazing, stylish wingback chairs.
Lastly, make sure to choose a durable chair, provides maximum comfort, and has mobile features for easy transportation. Cheers!