Swedish Let's Player and web comedian PewDiePie (real name-Felix Arvid Ulf Kjellberg) is one of the famous YouTube personalities and has 110 million subscribers on his YouTube channel. His content lies in vlogging, video gaming- Minecraft and CoD, along with other YouTube dramas.
If you keep up with PewDiePie, I'm sure you know about the PewDiePie vs. T-series (Indian music channel) battle on YouTube. The t- series defeated PewDiePie Top No.1 Youtuber. However, being the king of YouTube, he bounced back to reclaim his position against T-series with 0.4 million subscribers, thanks to his video ridiculing the Indian music label.
Over time as a Youtuber, PewDiePie has used quite many gaming chairs. So let get deeper on the topic " What gaming chair does PewDiePie use? "
Which chair does PewDiePie use?
Currently, PewDiePie uses a gaming chair model from Clutch Chairz Signature PewDiePie Edition Throttle Series.
What is a PewDiePie chair?
The Signature Throttle Series PewDiePie Edition gaming chair was startlingly released as an alliance between PewDiePie and Clutch Chairz. PewDiePie himself designed it. Hence, PewDiePie's gaming chair is exclusively available on the Clutch Chairz website.
However, another gaming chair model, known as the standard non-PewDiePie Edition version of the Throttle Series PewDiePie Edition gaming chair from Clutch Chairz, is available on Amazon without shipping perks at a higher price original website.
Characteristics of PewDiePie chair
The YouTuber has designed the chair with creative intent and sports the "brofist" logo at the chair's back.
Well, a gaming chair is always considered to be comfortable and is suitable for long sessions of playing or working. Due to their advanced features, some people prefer gaming chairs over office chairs.
Let's now take a closer look at the PewDiePie chair's specifications and features.
Support pillows
Firstly, PewDiePie's gaming chairs come with free two adjustable neck pillows and lumbar pillows. Secondly, these pillows are the epitome of support and provide a great deal of comfort while gaming. We often sit at the computer with a bad posture. This chair helps you align your spine, which benefits the other parts, such as the neck and shoulders.
Chair foam
Not only is the chair made with cold-cured high-quality memory foam, but it is also used in padding both the cushion and the seat. Thereby increasing the level of comfort. Not to mention, the foam gives the user a zero-gravity feeling. In addition, there is no slouching of the foam as it is for long time use. Cool!
Chair upholstery
The memory foam and pillows are covered with a soft PU leather material that comforts the skin.
Adjustments
PewDiePie designed this chair for gaming purposes. Therefore it has amazing adjustment features such as:
Armrest
The armrest for the Clutch Chairz PewDiePie edition chair provides the most comfortable arm positions. Gaming requires you to move your arms in various angles and ways.
This PewDiePie's chair gives you the liberty to choose 4 flexible options. You can adjust the height of the armrest by moving the arms up and down, backward, and sideways.
The armrest also has a 10-degrees and a full 20-degrees angle of rotation for better arm placement. In addition, the armrests provide enough space to place your arms and hands and don't dig into the skin. Besides, you can rest the whole arms, including your elbows.
Headrest
The PewDiePie edition chair has a standard headrest and clips (elastic straps) at the chair's back. Likewise, the headrest's star highlight is the good memory foam that hugs the neck.
Height
This gaming chair can tilt at all possible angles at 12 degrees. This is because of the broad base, which provides stability for movement. Once you find the angle you are comfortable in, lock it, and you are ready to take over the enemy base. The chair has a class 4 gas lift. In conclusion, the chair can hold a total weight of 330lbs.
Rocking mechanism and lumbar mechanism
The PewDiePie's chair has a rocking mechanism with tension adjustment and a solid titled multiple positions locking to stop the rocking mechanism are some of the best ergonomically designed features.
Firstly, this helps the spine get comfortable, and secondly, it relieves pain due to extended periods of sitting.
Another key point is the chair's lumbar mechanism support. When the lumbar support is placed properly, it benefits the hips, ears, neck, and shoulders to be well aligned.
Chair design
This gaming chair has a characteristic gold stitched 100 M logo and is adorned with built-in LED lights along the chair's borders.
Warranty
Clutch Chairz gives you a lifetime warranty for the steel frame together with a 3-year warranty on PewDiePie's chair upholstery and chair parts.
Frame
Another highlight of this chair is the chair frame. It consists of a strong, durable tubular steel frame. In addition, it is designed to fit the shape of the body when sitting.
Another key point is its recline feature. The chair reclines from 85 degrees up to 135 degrees. Thereby, the frame allows you the freedom of a 50 degrees movement. That means whatever position you require the chair to take is attainable for maximum comfort.
Not to mention the high-density, high-quality memory foam that gives you a zero-gravity feel.
Health benefits of PewDiePie chair.
In short, YES. The PewDiePie gaming chair has the best features which give its users health benefits, such as
Good posture
Proper spine alignment
Helps reduce back pain
Aids in correcting neck positioning to avoid a gamers neck
Reduces headaches and migraines
Shoulder alignment
Supports posture
Is the PewDiePie chair a good product?
To clarify, YES. The PewDiePie gaming chair is a good product thanks to its superior make and the different levels of adjustments that give you a perfect sitting orientation.
Who makes PewDiePie chairs?
The PewDiePie's chair is made with the collaboration of PewDiePie and Clutch Chairz. Clutch Chairz is the world's best gaming chair. Their gaming chairs are made using superior materials and offer the best guarantee warrant period of 2 to 5 years. They offer different color variants for chair upholstery.
Is the PewDiePie chair comfortable?
It can't get any better than this. The chair delivers the best snug and comfortable experience to its user. As mentioned before, it gives you a floating feel. These are the main ergonomic feature that provides the ultimate comfort to users:
Lumbar support cushion
Adjustable 4D armrests
Zero G foam
Rocking mechanism
Types of PewDiePie chairs
In addition to the gaming products designed by PewDiePie, he has designed the following gaming chairs beneficial to him as a YouTuber/gamer and fellow gamers worldwide.
PewDiePie LED 100 Million edition
For aesthetic appeal, this gaming chair features a limited edition gold 100 M logo stitching. Not to mention it also has LED lights.
PewDiePie LED Edition
Owing to the handcrafted workmanship, this chair has a cutting-edge gaming chair with LED lights. It is built with high-density foam, lumbar cushion, dura-soft leather material, and a handcrafted finish.
PewDiePie Edition
This clutch gaming chair has high-density foam for the right support and comfort. It is coupled with dura-soft leather, which not only wears well but is easy to maintain. A large lumbar cushion provides the right spine and body part alignment.
Websites selling the PewDiePie chair
PewDiePie's chairs are fast selling. Therefore, it isn't easy to get your hands on this model. However, if you're lucky and the product is in stock, you can grab the standard non-PewDiePie Edition version of the Clutch Chairz Throttle Series PewDiePie Edition gaming chair on Amazon.
Its official website sells the original brands of all three types of PewDiePie gaming chairs. They are also ships to Europe and Canada.
How much does PewdiePie's chair cost?
Though the PewDiePie chair has relatively high pricing, it delivers high-quality materials and superior quality materials and durability. Hence, it is sure to enhance your gaming experience. If anything, this chair is worth buying.
The PewDiePie LED 100 Million edition gaming chair comes for $469.90, PewDiePie LED Edition gaming chair costs $449.99, the price of the PewDiePie Edition gaming chair is $429.99.
These are the prices of the three gaming chairs as displayed on the official USA clutchchairz.com website. However, the gaming chairs prices differ depending on the country; for instance, PewDiePie LED 100 Million edition gaming chair costs $473.53 for Europe.
Likewise, you can avail the chair at its best price during the sale or by applying any coupons or online deals.
PewDiePie Chair vs Regular gaming Chairs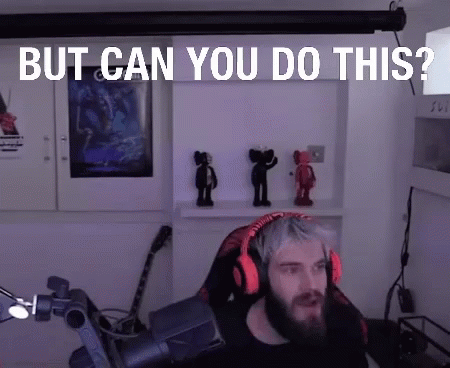 In comparison, regular gaming chairs are not bad. However, they do not provide the level of comfort that a PewDiePie gaming chair offers. For one thing, regular gaming chairs don't have a high-quality memory foam or a zero-gravity feel. They use a lower-quality foam.
In contrast to the PewDiePie chair, regular gaming chairs don't have a sturdy base or a poor-quality chair frame. Some also lack height adjustments, whereas the PewDiePie chair offers its users a wide range of angles, adjustments, and heights.
Conclusion.
To conclude, the PewDiePie LED 100 million edition chair used by PewDiePie himself is certain to raise your status as a gamer. Firstly, the PewDiePie chair comes with quality features and provides comfort with its best features. Secondly, the chair is so comfortable; you could sleep soundly.
In addition, the chair doesn't creak, is silent and cozy. Accordingly, you can personalize the PewDiePie chair to best suit your needs. The only con of the chair is that the lumbar support flattens when you push the chair back. And that is where the headrest comes in to your rescue.